VooPoo has just released its new VooPoo 2 Drag, the follow-up to 2017's insanely popular VooPoo Drag.
This time, though, it didn't just release one mod.
Nope, there are two new vape mods to choose from this time:
The VooPoo Drag 2 and the VooPoo Drag Mini.
As the name suggests, the VooPoo Drag Mini is a less powerful, smaller version of the VooPoo Drag 2.
The mods look similar, but the Mini does not feature removable batteries.
Instead, you have a built-in 4400mAh cell which delivers decent(ish) battery life, providing you're not running it at super-high wattages all the time.
VooPoo Drag 2 vs. VooPoo Drag Mini – The Main Differences
The main differences between these two mods are listed below:
Power | The Drag 2 is More Powerful (177W versus 117W)
Size | The Drag Mini is Smaller (Though Not By Much)
Battery | The Drag 2 Runs 2x 18650 Batteries; The Drag Mini Runs A Non-Removable 4400mAh cell
And that's about it for differences.
Both devices run VooPoo's excellent GENE chip and both hit very hard, just like their predecessor.
VooPoo Drag 2 vs. VooPoo Drag Mini | Design
The devices, as you can see in the images below, look kind of similar. The VooPoo Drag 2 has a removable door for the batteries, while the Drag Mini is completely sealed.
Both are available in a variety of resin options; my review units are the red and kinda-green-looking option.
The design language is great on both mods. I'm a big fan of VooPoo's mods and the Drag 2 and Drag Mini do not disappoint in this context.
They're sturdy, well put together, and they look and feel exceptionally premium.
How Do They Perform?
Let's talk about the VooPoo Drag 2 first, as this mod is kind of the flagship device. You also get a sub ohm tank with both mods in the form of the VooPoo UFORCE mesh tank.
It's a very decent mesh coil tank as well. I'm still on my first coil, two weeks into testing.
I've been using the VooPoo Drag 2 pretty much around the clock for a couple of weeks now. Performance is excellent, as you'd expect from the GENE chip, and I really like the way it looks and feels.
It's not quite as sharp or angular as the original VooPoo DRAG; the design has been smoothed down and refined. It's also about 30% lighter too, which is impressive.
I've run RTAs, sub ohm tanks, and RDAs on the VooPoo Drag 2 and it has run them all brilliantly, never missing a beat, and delivering powerful, punchy performance across the board.
I like that the display, though small, is now OLED. It just looks better and, as a side bonus, it uses less power. Both good things.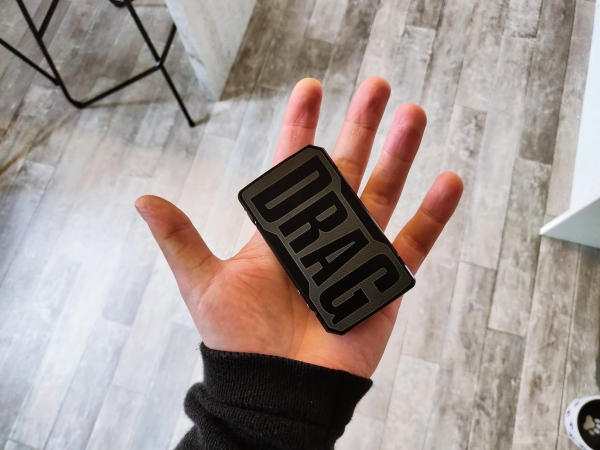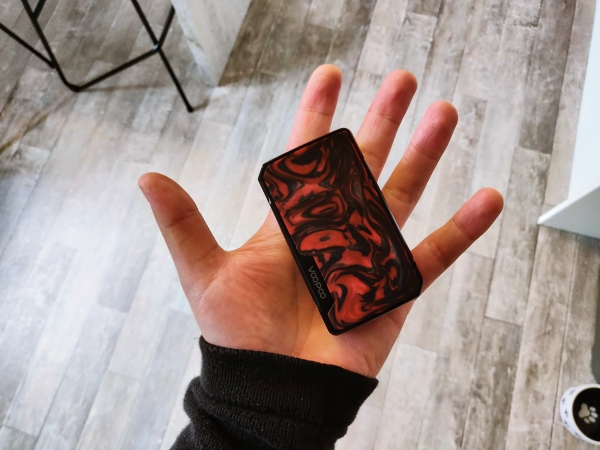 It's not any better than the original VooPoo DRAG, with respect to perceptible performance, but the design is a lot more refined. This is basically what you're paying for when you get this mod.
So if the price of the VooPoo Drag 2 puts you off getting it, I would still 100% recommend the original VooPoo Drag (it's current #1 on our Best Box Mod Guide). And it's about half the price and still kicks a lot of ass.
What About The VooPoo Drag Mini Then?
It's a different kind of beast. It has enough power under the hood for most tanks (117W), but you don't want to be pushing it too hard.
Why's that?
Simple: the battery life will crap out on you. Run it around 45-50W and the battery life is comparable to the VooPoo Drag 2 (which runs on 2x 18650 cells).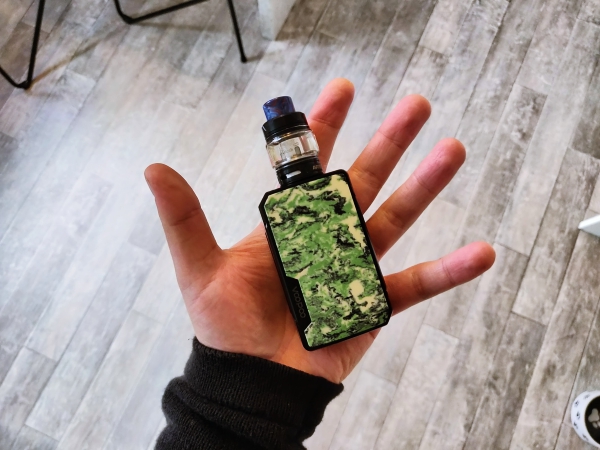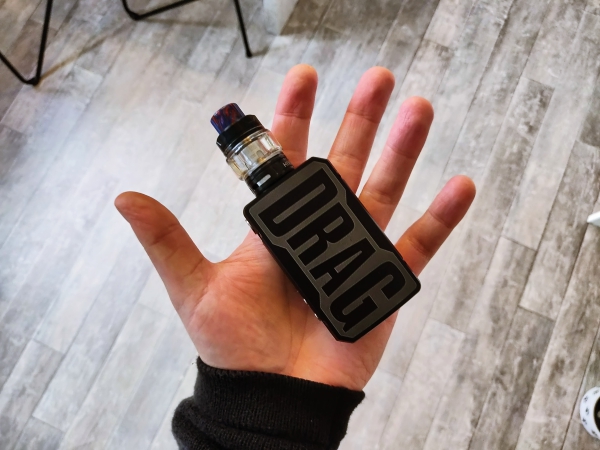 During my testing of the VooPoo Drag Mini, I found it worked best with single coil RTAs. You can run these tanks nice and low, and this conserves your battery life.
Pop a high-performance sub ohm tank on there, a tank that needs 80-100W of power to really work, and you'll kill the battery life in a matter of hours.
It performs great at higher wattages, thanks to the GENE chip, but the battery will let you down eventually. This is just a fact of life when you're using mods with non-removable batteries.
No Quick Charge (And That Would Have Been Nice)
The VooPoo Drag Mini does not feature Quick Charge, whereby you can charge via USB very quickly. It also doesn't utilize USB Type C, the most recent USB technology.
The omission of these two things is kinda disappointing. Mostly because with Quick Charge you can charge a vape mod from flat to almost full in about 40 minutes.
With standard USB and standard charging, you're looking at 90 minutes.
These aren't deal-breakers by any means, but they are both things I would have included had I been designing the mod, as they both bring quite a lot of utility with them.
Best Tank To Use With VooPoo Drag Mini?
Simple: one you can run at lower wattages, so anything like a single coil RTA or a lower-power MTL vape tank.
Run these styles of vape tank on the VooPoo Drag Mini and you'll have no problems with battery life.
I've been rocking a Kayfun on mine, running at around 18W, and I'm getting about two days of battery life.
If you're the type of vaper that likes to vape in around 80-100W, you're gonna need to get the VooPoo Drag 2, as it is much better suited to that style of vaping.
Bottomline?
Both mods are very good. They're just designed for different styles of vaping.
The VooPoo Drag 2 is the one to go for if you want to do high-power vaping. It has better battery life (thank to removable cells) and is better suited to performance vape tanks.
The VooPoo Drag Mini is slightly smaller, less powerful, and is designed for use with certain types of vape tanks – those that run at lower wattages, so single coil RTAs and MTL vape tanks.
Used in the right context, both are great options. It just depends on what kind of vaper you are, really.
Repost by Reaversadmin
Supplied Courtesy of VAPEBEAT and
By Drake Equation |